Blink XT Outdoor Security Camera
For $119.99, get complete protection for your home with our weatherproof, 100% wire-free outdoor camera.
What good is a battery-powered security camera if you have to change the batteries every few weeks?
Our unique technology delivers two years of battery life in a weatherproof outdoor camera for extended, no-hassle peace of mind.

Wireless & Wire-Free
Our security cameras are completely wire free. Use the included wall mount to attach Blink XT to the side of your house or garage, or place it anywhere you want to monitor and move it around as needed.

Smartphone Compatible
Download our smartphone app & sync our security cameras to your phone. Get instant alerts & video sent to your phone when motion is detected. Or you can use the live feed feature to monitor your camera system in real-time!

HD Video
Our cameras capture video at 720p HD and have infrared night vision to ensure you get a clear view of your home or business any time day or night, with minimal distortion or blurring. 
Keep an Eye Outside (From Anywhere!)
With Blink XT, you can monitor the outside of your home from wherever you are to keep an eye on package deliveries, animal activity, and visitors (both wanted and unwanted). Blink XT is weatherproof and features infrared night vision, so it works in any weather, any time of day. The camera runs on two AA batteries, and has an average battery life of two years.
Learn More About Blink's Features

Motion Detection - When motion is detected, Blink records a short clip and sends it to your phone.

Infrared Night Vision - Clear images in any light, allowing for round-the-clock surveillance day or night.

Weatherproof - Water-resistant unit features temperature sensors to ensure clear, HD-quality video no matter what the forecast entails.

Instant Alerts - Notifications are sent directly to your iOS or Android smartphone so you can quickly access information and decide how to respond.
Get Your Outdoor System For $119.99 Today!
The free Blink app sends instant alerts with recorded clips directly to your smartphone, and also features a live view.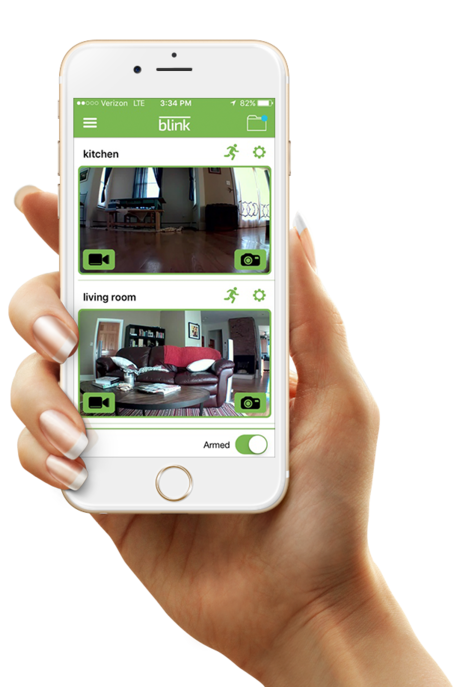 FAQ
Where can I put Blink XT?
Blink XT can be placed anywhere you like. Use the included mount to attach it to an exterior wall, tree, post, or anywhere you want to be able to monitor.
Is it ok to leave Blink XT outside year round?
That's what it's made for! Unlike our indoor cameras, Blink XT is completely weatherproof and can withstand the elements.
How often do I need to change the batteries?
Just like our indoor cameras, Blink XT has an average battery life of 2 years.
Does Blink XT work with indoor Sync Modules?
Yes, set up Blink XT the same way you set up our indoor cameras. Learn more here.